Foreclosure Intelligence - Wall St Economy to Local Community Economy context and overview
Just as the "crisis" doesn't seem to make sense as discussed in the Community Approach Background section the data and information we see in the media and the government also seems contradictory and at times non-sensical.
The following charts from mybudget360.com help make the points we need to explore and to challenge the assumptions by Wall St supporters and their enablers in government.
In Chart #7 we see what the "middle class squeeze" is. Banks have stopped lending while the financial sector is benefiting from our tax dollars to the tune of TWO TRILLION DOLLARS. Congress debates cutting Social Security and the safety net for the unemployed, people in poverty and even our men and women who have served our country who find themselves struggling instead of looking at where the money went!
The author recommends that we hold our representatives accountable and hopefully this web site can be a tool to help do so. See description of a trillion dollars below.
Chart #7 – credit market data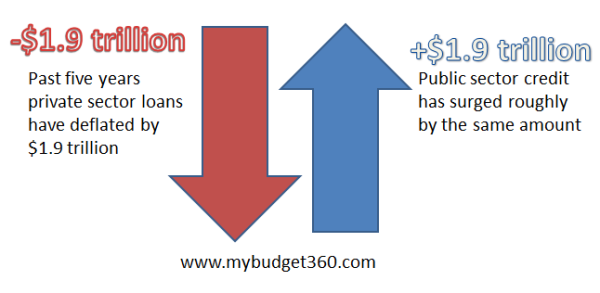 "Households have seen a draining of $1.9 trillion in the credit markets since the crisis hit. Yet this amount of money has been injected from the government side. Where did all of this money go? Most of it went to the banking sector. There has been negligible improvement in the employment sector, household wages continue to go nowhere, and the security of middle class families continues to erode."
In chart #8 we see the breakdown of government funding of the financial sector nearly totaling 6 TRILLION dollars. May reflect additional funds exposed by Sen. Bernie Sanders of VT. Interesting to see "permanent repos", "securities", and "swap lines" terminology that distressed homeowners have become familiar with in building their cases of fraud against the lenders. Yet, we see people losing their homes even when a modification has been done in some cases and where lender had no right to foreclose and other cases. These cases seem to reflect the "swindle" that lenders and Wall St are committing as the author states.
Chart #8 – Fed and U.S. Treasury funds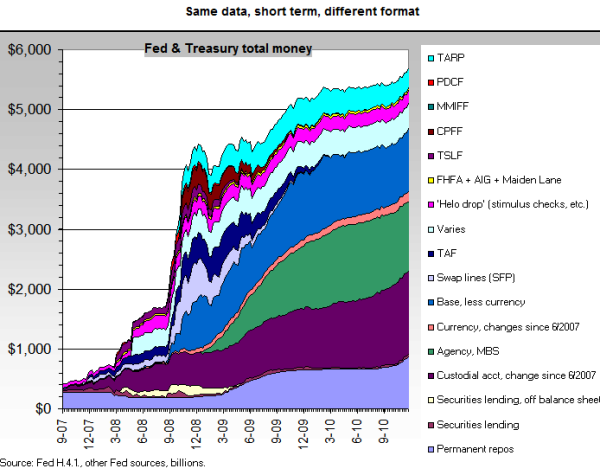 Source: Now and Futures
"The above chart shows contrary to what the Federal Reserve and U.S. Treasury are saying, we have a massive shadow bailouts occurring. This is an absolute banking bailout. Very little of this money has trickled down to the working and middle class. So what you have is a giant swindle occurring and this is likely to continue if nothing changes in the next few years. We've already had over a decade of favorable policies to the banking sector and nothing seems to have created momentum for change. The next decade will prove to be painful for the middle class so people need to be aware of what is going on and simply look at the data to see where the money is really flowing."
Trillions of dollars are not going to greedy homeowners, or lazy government workers or little old ladies on social security it would seem!
A TRILLION DOLLARS
This will give you an idea of how much a trillion dollars is. $10,000 in $100 bills is half an inch thick. $1,000,000 fits in a grocery bag. A hundred million dollars would fit on a pallet you would find in a warehouse about 3 ft x 3 ft x 3 ft stack. $1 BILLION dollars would be 10 pallets
$10 billion dollars would be 50 double stacked pallets – about 6 ft high and 150 ft wide in $100 bills.
$1 TRILLION dollars would be 100 ROWS of 50 double stacked pallets – about the size of a football field!
Good visual and explanation here http://www.pagetutor.com/trillion/calculations.html
See the next section of data and reports I am providing and hope to build on to make sense of the data and see how the crisis impacts us and our communities so we can demand answers.
If we don't act our community wealth, will be taken from us as well as our future generations.
Not just a matter of losing some homes like any other cycle before even if we are talking millions of homes. We need to see where the money IS REALLY FLOWING as the author says and make sure our nation isn't sold out from under us.
I have researched the following points that reflect what is occurring in my opinion and counters what is generally being reported by the media, lenders and government especially Republican politicians. ( both wings – anti regulation corporatists ( some Democrats as well – Blue Dogs eg ) and tea party deficit types against spending on safety net or domestic economy that would create and save jobs while ignoring true nature of deficit and Wall St abuse)
If Democrats continue to approach this as a political game then they need to be held accountable as well and we will need new blood in 2012!
NOTE: Will document and verify as time allows but it is important that a real discussion begin as I pursue my own personal case and hopefully can focus on data and information tools. Feel free to verify on your own and challenge/correct as long as we are focused on solutions. Perhaps we need a ForeclosurePedia! This is just a start and will hopefully evolve.
Recent report reflects that no one is participating in the real estate game despite historically low interest rates, pent up demand and low prices.

Experts say housing won't come back until INVESTORS lead the way (didn't they and the too big too fail banks lead us off the cliff? Few real safeguards as Republicans have watered down every piece of legislation or stalled any regulation) It is felt that the MILLIONS of foreclosures need to be pushed through the system; could be another five years. In other words lenders and government have no obligation to distressed homeowners or home buyers that are the backbone of the middle class.

Hundreds of Billions of dollars went to the banks that were too big to fail with the expectation they would work with homeowners and free up lending – they weren't obligated because that would be socialism! According to the hysteria generated by the tea party, Republicans and their corporate sponsors.

One source estimates that the banks borrowed as much from the American taxpayer as they are worth

Sen Bernie Sanders (VT) demonstrated that the lenders received TRILLIONS more outside of TARP!

Banks paid back the TARP money and are making nice profits with executives earning nice bundles of cash as if there never was a "crisis". They feel entitled to their millions in bonuses even though they received TRILLIONS more than they got from TARP. That's a thousand billion per trillion!

The 3 million foreclosures and more constantly reported have businesses and lenders on the sideline because of uncertainty while distressed homeowners have to bail out or dig in and new homeowners are too terrorized to make a move

Recently, the mayor of Los Angeles cited 10,000 foreclosures in his city last year (2010) as reason for comprehensive mortgage task force which is great though maybe too late? What about 2008, 2009? Does 10,000 in second largest city make sense out of 1 million nationwide per year?

So, while homeowners fight and local politicians don't want to rock the boat, the lenders and their beneficiaries are laughing all the way to the bank!
This is not meant to be a formal report. This is meant to be a resource so we can begin a real discussion to put the plight of the distressed homeowner in it's proper perspective and as a warning as to the danger the American middle class is in.
Senator Sanders' efforts though should provide the proof we need that we can't continue business as usual. ( with more information due at end of July )
Data and reports follow that can be helpful in visualizing what is happening in your community and to see where the money is flowing and IF IT ALL ADDS UP!